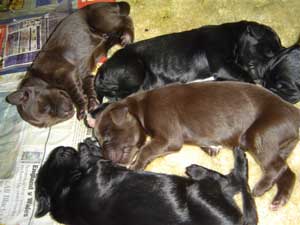 Before you go ooh and aah about the puppies picture, please remember that by about six months old those tiny little handfuls of joy will be starting to develop into large hairy monsters capable of pushing you and your family closer to the edge than you ever thought possible.
Newfoundlands are world-class mud-magnets and can bring an amazing amount of water and dirt into your house.
Please read further down this page and view the PDF documents provided.
The Newfoundland Club recommend that all puppies are insured. We have an arrangement with Agria Pet Insurance to which breeders can subscribe - it provides five weeks of free insurance for all puppies and a reward when new owners continue onto an annual policy. For the new owners there is the peace of mind of up to £12,500 in veterinary fess cover for accident, illness and injury and the first two months are currently half price.