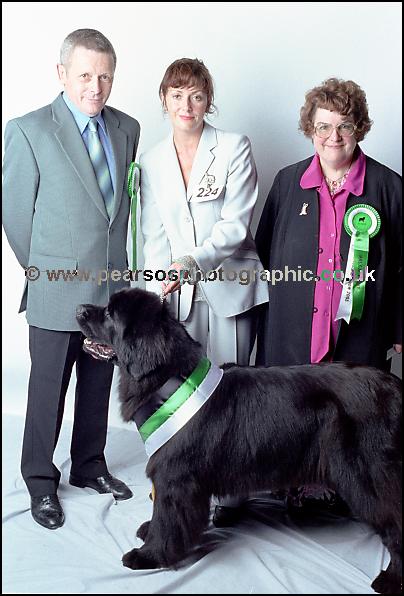 Judge - Mrs. G. Barker.
Critique – The Newfoundland Club Championship Show
DOGS
I wish to thank everyone responsible for making the day so enjoyable. The organisation of the show was excellent and the extremely efficient show manager and supporting committee and helpers were superb. The atmosphere was terrific,- friendly, sporting, and a credit to all exhibitors. It made me proud that there are so many people in the Newfoundland show ring who obviously care deeply for their dogs. Thanks also to my co judge Mr Hedd Richards for the ease with which we reached mutual decisions.
What was I looking for in the dogs I was privileged to judge?
I looked for excellence, and tried to be positive ,looking at the whole dog. Some faults I consider minor, and these I forgave, instead concentrating on type, quality, overall balance, correct conformation and sound movement. I did not penalise excellent dogs with a slightly imperfect bite or cosmetic colour fault since these faults have no bearing on a dog's ability to function as a draught and swimming animal, but I did penalise major faults like lack of size, weak bone, incorrect open coats, lack of overall balance and poor movement. It should never be forgotten that the massive size, huge bone, heavy double coat and strength were essential to withstand the extreme climate of Newfoundland and to survive the privations these ill cared for dogs endured during their hard working lives , pulling heavy loads on land and swimming in stormy icy seas. That is the essence of the breed, and we change this at our peril.
Firstly and most importantly I was looking for well balanced males with massive bone, large size and substance which looked like they could work effectively as draught dogs .A Newfoundland should not be a light weight or elegant flashy showman .This is a giant working breed . Size and strength are absolutely vital, Dignified, noble and powerful, this breed has suffered in recent years from overuse of undersized dogs for breeding .I believe some breeders have come to accept that small but typy dogs are the future of the breed, and while these dogs win there is no incentive to change a winning formula. Those of us who remember the dogs who were winning 20 years ago will be forgiven for wondering what has happened to size- many bitch champions then were substantially bigger than some males today. This should be a matter of great concern to all who hold the future of the breed in their hands and it must be addressed. Therefore my choices had to give an overall impression of great power and strength. There was a wide range of different sizes and some were far too small. A small male Newfoundland is incorrect, and any male lacking tremendous substance should never win a major placing in the ring. This is a giant breed, not a Labrador or Flat coated retriever, and it is essential that both judges and exhibitors take a long hard look at the dogs which are currently being shown and placed. I discreetly measured the approximate height of the dogs shown under me and while many were average or above the height laid down in the Breed Standard, too many were below. Height of course is not the only factor to consider. It is possible for a tall dog to be totally unbalanced and overall symmetry is vital. I looked for well proportioned males of square appearance whose height came from depth of body not length of leg. A good full chest width and depth at brisket and well sprung ribs are essential for a working dog in order to allow him ample heart and lung capacity. Viewed in profile I looked for a strong broad back with level topline, deep body with no discernible tuck up, and strong well muscled loins. Many dogs were fine boned and lacked strength particularly in rear angulation. My winners in all the larger classes excelled in size of bone and great substance. I also set great store on strong hindquarters since driving power for swimming, pulling loads and covering ground efficiently depends on a powerful rear assembly. I penalised straight stifles, weak underdeveloped thighs and cow hocks .Some dogs which looked balanced when stacked were weak behind and lacked muscle . Some threw their hocks and failed to converge on a single line during movement. There were some straight stifles causing a stilted gait and poor fore reach , and short upper arms are still apparent. Short tails are still with us!
Mouths in general were good, though dropped teeth occasionally occurred. There were no incorrect jaws and no wry bites .One of the issues that troubles me is the enormous change that has taken place in the head balance of the breed. There was a wide range of head types, and I feel we are in danger of losing that soft melting expression which comes from the correct balance of small dark brown almond shaped eyes , gently curving crown , square, deep short muzzle and gentle stop. Some heads were too coarse with abrupt stops and there were a number of round staring eyes which spoil the expression. I was surprised at the number of pale eyes in black dogs ,but was delighted that my Landseer winners had dark brown eyes..
Temperament was excellent, and all the dogs ( and their owners! ) were gentle, laid back and friendly. Sweetness of temperament must surely be the most important single characteristic of the breed and it must be guarded at all costs.
Finally coat presentation was generally excellent – dogs were immaculate. Some exhibitors are still scissoring and sculpting their dogs' coats, which in my view is undesirable in a working water breed. Tidying of body hair is acceptable; body sculpting is not. However I had fewer " poodlified " dogs shown under me this time – presumably knowing my strong views on this they stayed at home!
I was delighted with my final line up which was full of top quality Newfoundlands. I could happily have given a ticket to four of these dogs, but in the end it went to a cracking black male Atlanticbear Faeroe JW who shone on the day and well deserved to win. I hope other tickets follow –he is worthy of being a champion and is an excellent ambassador for the qualities this breed should possess.
Minor Puppy Dog. (3)
Brooklynbear Navarona. Stood alone.Promising 6 mths black, still very much a baby. Good width of skull, correct bite and kind expression. At present long in body and will need time to grow in height , and broaden and deepen in chest. His movement is unbalanced, but this is to be expected at such a tender age.
Puppy. (11) A strong class with some good quality youngsters who could change places on another day.
Best puppy dog and Best Puppy in Show. 1.Lindall it's himself. Attractive masculine well balanced black male,9 mths. Liked his kind expression and well shaped head with square muzzle, well set ears and correct mouth. Strongly boned forelegs and good width and depth of chest . In profile his neck is well set ,on well laid back shoulders. Topline is level and he moved positively with drive from powerful hindquarters.Good strong hip assembly, hocks well let down.
2.Zaiton Chad .Well made10 mths black male with kind expression though slightly light eye. Overall a well shaped nicely balanced head ,good crown though ears still rather large ( often the case with puppies. He has time on his side.)Forelegs are well boned and straight, elbows are well tucked into his sides. Correct spring of rib, and he looked well balanced in body .Strong hindquarters , he moved with good reach and drive.
3. Seafar Muddy Waters. Well boned 11 mths black, correctly shaped muzzle and head shape giving an attractive expression. Another positive mover with strong stifles and well developed thighs . He looked balanced when stacked with a sturdy neck and well angulated shoulder blades, well ribbed and with good depth of chest .Profuse coat.
Veteran.(1) absent.
Special Yearling Dog. (10)
1.Joalta walkin on the Moon.A clear winner here. This 14 mth Landseer is superb - absolutely outstanding! He was beaten only by the Res.CC.winner in the later Landseer class but his day will come! He has all the qualities I was looking for. He is a big upstanding dog above average height with excellent strong bone and substance. His head is soft yet masculine , with super balance of eye, ears ,gently arched crown and clean cut muzzle. His eyes are dark brown and sparkle with fun, reflecting the character of the breed. His expression is intelligent yet dignified. He reminds me strongly of his sire,Silver Skydragon and he has inherited many of his best qualities including strong positive driving action from his extremely powerful rear structure. His movement gives a sense of effortless power and stamina. This dog could work , and impresses the eye with his strength and great activity. He has excellent muscular thighs, well turned stifles and strong well let down hocks. His neck is strong and muscular, topline is level and firm from withers to rump, and his chest is broad, full and deep. He has large round feet and strong pasterns. Classically marked, with maturity he will trouble the best, and in my opinion should gain his championship title .
2. Nordicangel Song of Solomon. A big upstanding 13 mths black, strong bone and well balanced body. Liked his head and expression, massive with a broad skull and well developed occipital bone. Good spring of rib and deep chest at the brisket. Super coat of correct texture though too well trimmed for me.3.Abbeydore Sea Bagnino at Bownbears. Attractive big lad, liked his kind dark eyes and well shaped muzzle giving a true Newfie expression. A level topline and strong broad back,sturdy well made neck and well angulated shoulders made a pleasing outline.Good stifles and strong well let down hocks complete the picture. Not really settled in hind movement in this class but this improved in later classes resulting in improved placings.
Junior Dog. (11)
1. Brinmont Overture. I really liked this imposing young black male. Super bone,and good size and substance.His head is lovely; the gentle curving crown, kind expression and attractively shaped eyes remind me of his sire Booker, whose head I have always thought is beautiful. He has excellent shoulders, well angulated , a strong level topline, great depth of chest at the brisket, and strong well boned parallel forelegs. Good spring of rib and strong loins . His strongly made hind assembly enable him to move with excellent rear drive and effortless forward reach. One to watch for the future.
2. Abbeydore Sea Bagnino at Bownbears. Showed more effectively in this class, able to assess his movement more accurately, leading to higher placing.
3.Darbydale Wilson Pickett. Another attractive head( Booker again I see). Kind gentle expression, well shaped head carried proudly on a strong well set neck and well laid shoulders. A longer backline than 1 and 2., not square in body profile but still only 15 months so he has time on his side.Good coat of correct texture. Moved positively with drive.
Novice.(6)
1.Abbeydore Sea Bagnino.Now really settled!
2.Windyhaugh Blue Print at Darebear lots of positive qualities, including well set shoulders, good straight parallel forelegs, level topline, chest of correct depth , well ribbed up. Would like slightly more height at the withers. Kind head with good balance of curving crown and square muzzle, lovely dark eye.Dense coat though slightly wavy.
3.Awlmarbears the Buccaneer. Big boy with kind gentle head and expression (Booker again!) Chest is still rather narrow but he is only 16 mths so he is immature and needs time. Strong well laid shoulders and a sturdy neck, good tail length. Preferred hind assembly and more positive hind action of 1. and 2.Super coat of correct texture.
Graduate.( 9).
1. Harbourdeep Navarro .A clear winner. Excellent imposing black dog of excellent size,substance and superb bone. I loved his head, so well balanced, kindly , super dark eyes and correctly shaped muzzle, crown and occipital bone . He combines maleness with great gentleness and obvious sweetness of temperament. He has excellent fore and hind angulation , great chest width and depth, strong well boned legs,and a strong level backline which he held on the move. He shows many of the best qualities of his sire Defender – he shouts " Newfy" at you, and I am certain he has a great future. Still only 17 months I considered him for top honours , but simply lost on immaturity on the day .His day will come!
2. Seafar Last of the Mohicans. Rather darkly marked Landseer,of good bone and size. Well shaped head, though slightly loose eye . Lots of good qualities to like, including well balanced profile with good spread of rib, level topline and strong well set neck. Would like more width of chest. He moved out well with good hind action and positive drive.
3.Mayoss cruising with Mobox. An attractive dog with lots to like but his good qualities were spoilt by carrying excessive weight on his ribs and shoulders. He has a pleasing head, kindly but masculine. I liked his overall strength of bone, good width and depth of chest and rib structure, and his hindquarters were well made and strongly constructed with good turn of stifle and strong hocks. Unfortunately the weight caused him to move sluggishly – there was no doubt in my mind that his overall gait would improve if he carried less! ( but so would mine so I feel guilty !)
Post Graduate ( 15).
1.Hanningfield Ocean Breeze. Very attractive strongly made 2 years male. (Another Booker son I see) Lovely balanced head , looked sound and well balanced stacked . Level firm topline , strong well muscled loin . He moved with great power and effortless drive, and covered the ground very effectively. Held his topline on the move; rear assembly is strong with well bent stifles and muscular thighs .Hocks were parallel, strong, well let down and set well apart. Correctly textured double coat .
2.Millthorpe Rodney of Balryan. Imposing male with strongly made head (slightly too heavy for me) and good ring presence. He is an excellent active mover, flowing around the ring with strength and power, though he is rather proud of his tail which he carries high. He is well proportioned as well as being well coordinated and well muscled, and in profile has good balanced appearance. Chest is broad, full and deep; he has good spread of rib and strong well muscled loins. A quality dog.
3. Katahoo Sholto. Strong imposing male, good bone, and lovely head with kind expression and dark eye. ( Booker again!) Since looking at the catalogue I am staggered by the number of Booker sons who have been placed highly with positive comments about the quality of their heads. He is obviously passing this to his progeny. This dog has lots to like ,but he is carrying too much weight over his ribs . His movement is still free and powerful, and he strode out with good reach and strong drive. Well textured coat .
Mid Limit Dog..
(4) 1. Sheridel Knockout. Super male, with massive bone and the look of his sire Defender. Well balanced , upstanding, straight parallel forelegs ,strongly made well angulated shoulders and upper arms, excellent straight topline held on the move. Good depth of brisket, well ribbed up. Lovely head and gentle expression not overdone in any way. Very sound driving action from strong well constructed hindquarters and strong straight hocks. A quality dog.
2.Jolakada Alabama Mylar. Super looking dog stacked, with excellent bone, strong backline, and sound construction. His chest is full, deep and broad and ribs are well sprung giving good lung and heart capacity. Hocks are well made and hind angulation is strong. He moved very well, covering the ground with effortless strides. Unfortunately on the day he was considerably underweight owing to starving himself due to bitches in season.
3.Sheridel Jacques of Davistell. Sound looking male, kind head and expression. Chest and fore assembly well made , well ribbed up. Held his topline on the move. Not as imposing as 1. and 2.
Limit Dog.(12) This was a very strong class.
1.Atlanticbear Faeroe JW. CC and Reserve Best in Show. What a superb Newfoundland! He shone from the moment he entered the ring. He is so well made, and he typifies all that I was looking for .He looks like a sound powerful well coordinated dog capable of performing the function for which the breed was originally intended. He has tremendous presence and his expression reflects dignity, benevolent kindness and gentleness. Yet he is masculine but not coarse in any way. I love his head which is massive but not overdone. His broad skull,with slightly arched crown and well developed occiput blends smoothly into a smooth forehead, gentle stop and short clean cut muzzle. His eyes and ears are well shaped. His forelegs are massively boned, straight and strong, with elbows well tucked in. He gives a sense of great strength and power when examined from the front, rear and in profile. He has excellent well laid shoulders , great depth of chest at the brisket, which is the correct ratio to his height at the withers. He is a large upstanding dog whose height comes from body depth not length of leg. He has correct spring of rib and is strongly coupled in the loin area .His level strong backline flows into muscular solid broad hindquarters which provide excellent driving power which carried him round the ring in impressive style. His tail is strong, broad and well set and is carried correctly. I believe this is his first ticket, and hope it will be followed by others. He shares many of the excellent qualities of his sire Scandinavian Warrior and deserves to be made up.
2.Tremarcol Fernando.Another heavily boned big lad, impressive when stacked . Gives an impression of great strength and power especially when moving with excellent fore extension and super drive from his substantial broad well developed hindquarters. I liked his overall structure and sound conformation . In profile his broad strong level backline, muscular well set neck, full deep chest , excellent spring of rib and\ strong loin area combine to make a good typical Newfoundland. I forgave him his white tipped toes on one front foot , white tipped tail and large white bib, since I believed his many virtues outweighed colour faults.The Standard does state that a splash of white on chest, toes and tip of tail is acceptable .
3. Millthorpe Olympic Spirit of Balryan. A well made dog of good size,though not as imposing as 1. and 2. Super top line, good depth of chest at brisket, correct spring of rib and well coupled. Kind head and eye, not overdone in any way. He moved positively with drive.
Open Dog.( 13) A strong class of quality dogs.
1.Ch. Mayoss Booker. A super dog , well balanced and so soundly constructed. I love his head which epitomises all the qualities described in the Breed Standard. It is a kind head ,soft and gentle yet totally masculine. His tight dark eyes, correctly set small ears, short clean cut muzzle and gently curving skull reflect the character of the breed. His dignity and benevolent temperament shine through – he definitely has the "aah"" factor! Excellent well laid shoulders, straight parallel forelegs, tight large cat feet ,good spring of rib, excellent backline and super loin coupling make an impressive picture when stacked. He moves with excellent reach and drive .I considered him for the top award but I preferred the larger substance and overall size of my eventual CC winner.
2 A difficult choice between 2. and 3. They could change places on another day 2.Int. Ch. Fairweather's a Great Pretender. Another super headed dog with so much to like about his kind expression and well proportioned ears, muzzle and crown. He looked well balanced and sound when standing, and has a good height to length body ratio. He has excellent chest width and depth , strong level backline and well spread ribs .He moves very positively , driving hard from well angulated strong hind quarters and covering the ground with strong forehand extension. Good bone, super tail set and well bent stifles .However in spite of his many excellent qualities I prefer to see larger substance and size in a male.
3.Ch. Swanpool Frankie Dettori. Lovely well boned male. Great backline flows into a strong croup and good tail set. He has excellent shoulder angulation, a full deep chest and strong foreleg construction. He looks impressive stacked. I like his head –he has a super dark eye of correct shape. He moved out with strength and power.
Special Open Dog (Black) (5)
1.Ch. Tremarcol Defender. One of the most outstanding dogs in the entry. Excellent strong boned dog with superb bone , massive straight boned forelegs, great depth and width of chest. He was a strong contender for the ticket – he has all the features I look for in a top quality Newfoundland. He has great size and substance and looks so well balanced both standing and on the move. He is deep bodied, well muscled, and projects dignity and nobility. His head is lovely, kind but masculine. He is superbly proportioned , square in appearance and so well coordinated. His broad hindquarters are strong and massively boned, and he used his wide muscular thighs and strong hocks to good effect, powering around the ring with excellent reach and drive.
2.Gypsysprings Everdon. Another strongly made male with excellent bone and size. Super depth and width of chest, strong level broad back, strong well muscled loin area. He looks powerful and extremely well balanced. Moves with purposeful driving forward reach , covering the ground with effortless strides. I like his large tight paws and massively boned legs. Super dense straight coat completes the picture.
3.Merrybear Rigsby at Specialbear well made dog with good substance and strong bone. Good lay of shoulder , sound fore angulation and excellent level topline held on the move. Tail is set well and carried low., loin is strong and muscular.He used the ring to advantage when moving.
Open Brown.(7) I found this an interesting class to judge owing to a range of different types. A close decision between 1. and 2.
1.Culnor Musically Malcolm. An upstanding big lad, with super bone and substance. Deep bodied and well ribbed , I particularly liked his size and balance. He looked fit and active , and proved to be a powerful free mover with good driving rear action. He has an excellent level backline , strong croup and hip assembly.
2.Aarozeen Wonder Boy. I particularly liked this dog's head-lovely ear set and gently curving skull. Well made and very balanced, excellent symmetry. He has super bone, good ribbing, strong backline, and excellent deep full chest. Good profuse coat of correct texture completes the picture.Sound positive mover.
3.Seafar Nereus. Strongly made brown, heavy bone and substance ,well bent stifles, slightly narrow at front.
Strong head but kind expression.Not as positive a mover as 1. and 2.
Special Open Dog (Landseer) (12) Two cracking dogs headed this class.. RESERVE CC.
1.Ursas Midshipman Ready. This is such a super Newfoundland. He has a beautiful head and expression, kind, gentle yet masculine. His skull is massive with well developed occipital bone and gently arching crown. He has a short square muzzle and his ears and eyes are well positioned and well shaped. He has dark brown eyes that shine with fun and a sweet intelligent personality. One of his best attributes is his nobility and dignity – he epitomises all that is best about the breed. He is extremely well balanced with a strong solid body and his size comes from his mass not height, though he is the correct average height as laid down in the Standard. In profile his head is carried proudly on a strong muscular neck set into excellent shoulders. He is extremely fit and active, giving an impression of stamina and endurance. His chest is well developed in depth and width, giving good heart and lung capacity .His back is strong, level, wide and well muscled, characteristics necessary in a draught and water dog. His massively boned forelegs are straight and parallel ,with strong pasterns and super tight feet. When he moves his strong rear bone structure and powerful muscular hindquarters combine to generate accurate and efficient forward gait covering the ground with minimum effort.. He is a superb mover. Not a classically marked Landseer but I consider him a fine quality Newfoundland who deserves to win at the highest level.
2.Joalta walkin on the Moon. Winner of SYD, Still showing superbly.
3.Seafar Last of the Mohicans.
Special Open Dog( Bred by Exhibitor)
1.Mileoak Just William Good dog overall, dark eye and attractive expression, moved positively with drive. He seemed to enjoy his showing, wagging his tail with enthusiasm! Slightly wavy coat.
MAJOR AWARDS
DOG CC. ATLANTICBEAR FAEROE JW.
DOG RES.CC. URSAS MIDSHIPMAN READY.
Thanks to my co judge Mr Hedd Richards we reached mutual decisions as follows.
BEST IN SHOW AND BITCH CC. CH DARKPEAK MYSTIFIED.Stunning bitch of enormous quality just flowed around the ring in the final challenge. So feminine with lovely balance and substance.
RES.BEST IN SHOW AND BEST OPPOSITE SEX DOG CC. ATLANTICBEAR FAEROE
BEST PUPPY IN SHOW AND BEST PUPPY DOG LINDALL IT'S HIMSELF.
BEST VETERAN IN SHOW CH WANITOPA MADAM BUTTERFLY
.BEST LANDSEER IN SHOW. CH WANITOPA MADAM BUTTERFLY
Looking stunning as always, amazing to think this lovely lady is a veteran! One of my great favourites- she retired today on a high!
BEST BROWN IN SHOW. CULNOR MUSICALLY MALCOLM.
His size and ring presence won the day.